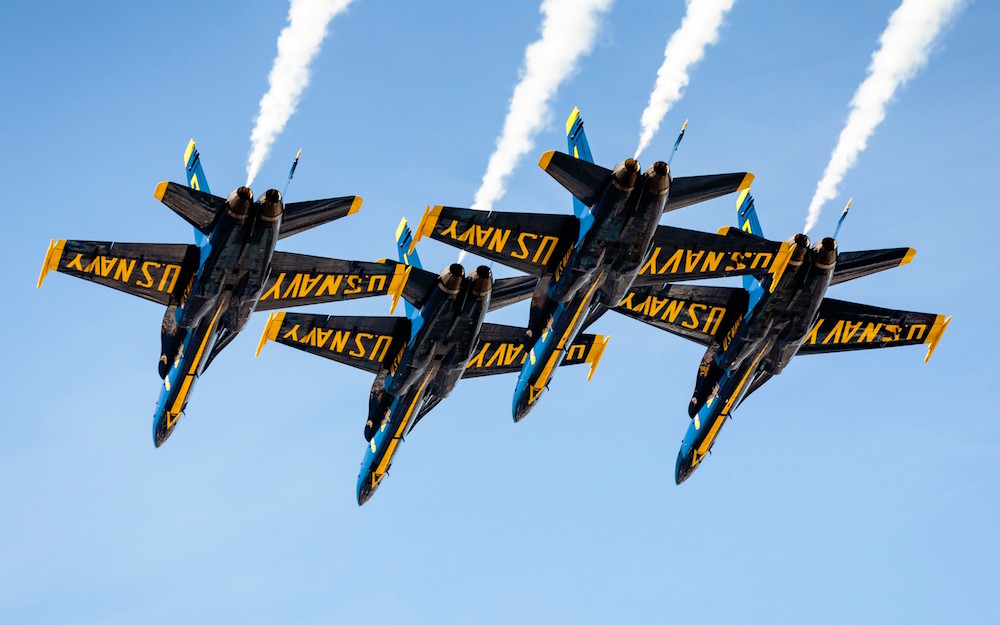 Thrilling audiences for over 70 years, the iconic U.S. Navy Blue Angels fly six powerful F/A-18 Hornet fighter jets during their tightly choreographed, high-energy demonstration. The 110-member squadron is led by Blue Angel #1 Commander Brian "Boss" Kesselring. 60 members of the team will travel to the Birthplace of Aviation from their home base at Naval Air Station (NAS), Pensacola, FL to stage the show in June. The generators of their aircraft are made by GE Aviation Systems in Vandalia, Ohio.
Did You Know?
The Blue Angels fly as close as 18 inches apart!
It only takes 72 hours for a Blue Angel jet to be made combat ready!
Seven other types of aircraft have been used prior to the F/A-18. They are: the Grumman F6F Hellcat, Grumman F8F Bearcat, Grumman F9f-2 Panther (first jet), Grumman F9F-8 Cougar, Grumman F11F-1 Tiger, McDonnell Douglas F-4J Phantom II, and the McDonnell Douglas A-4F Skyhawk II.
The fastest speed during the performance is about 700 MPH, just under Mach 1!
The Blue Angels were named after a nightclub in New York by the original team in 1946!
The Blue Angels first show was on June 15, 1946 in Jacksonville, FL!
F/A-18F Super Hornet FAST FACTS:
Engines: wo GE F414-GE-400 turbofan engines
Thrust: 22,000 pounds per engine
Wingspan: 44 feet, 9 inches
Length: 60 feet, 3 inches
Height: 16 feet
Speed: Mach 1.8
Combat Range: 1,275 nautical miles
Ceiling: 50,000 feet
Maximum Takeoff Weight: 66,000 pounds
Fuel Capacity: 18,000 pounds internally
Crew: 2
Unit Cost: $57 million