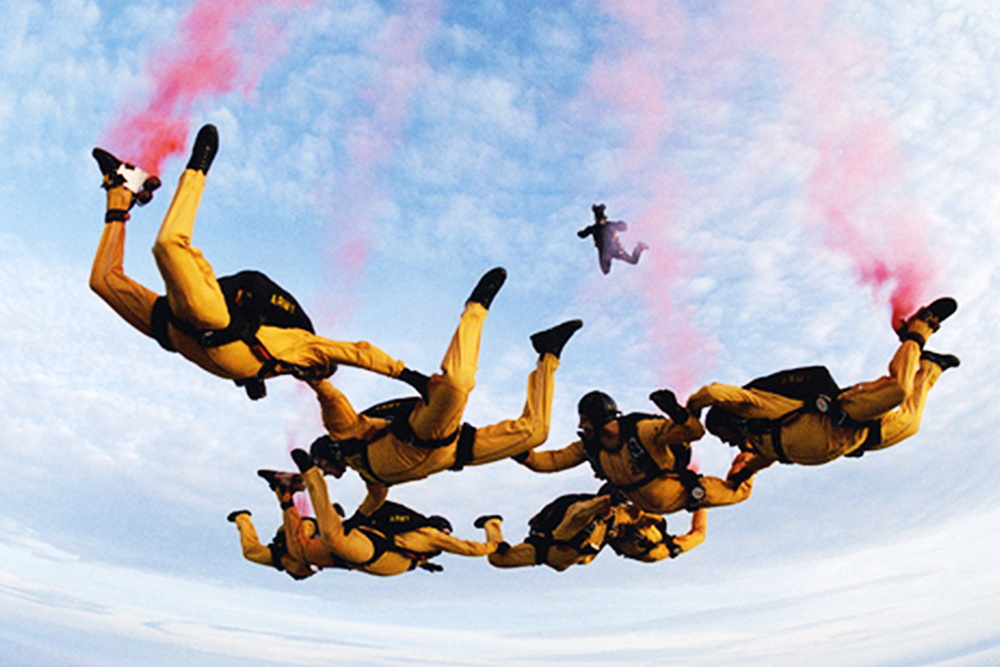 The Army Golden Knights inspire audiences of all ages with their patriotism and exciting maneuvers. Formed in 1959, the Golden Knights are the Army's official demonstration team. Members are drawn from US Army paratroopers who have demonstrated excellence in parachuting skills. They will thrill spectators with their intricate canopy work along with skydiving formations and landings that require extreme precision. Based in Ft. Bragg, North Carolina, these ambassadors of the Army represent the skill and professionalism of U.S. soldiers serving all over the world. The 16 member team will travel to Dayton in their Fokker C-31A Troopship which will also serve as their jump aircraft.
DID YOU KNOW?
Freefall Parachuting was invented at Old McCook Field in Dayton. Army Lt. Harold R. Harris became the first person to parachute out of a malfunctioning airplane on October 28, 1922!
For many years, Wright Field, now Area B of Wright-Patterson Air Force Base, was a main location for parachute technology research and development for the military!
In 1959, the team was formed and named the Golden Knights in 1962.
"Golden" signifies the gold medals the team had won while "Knights" referred to the team's ambition to conquer the skies!