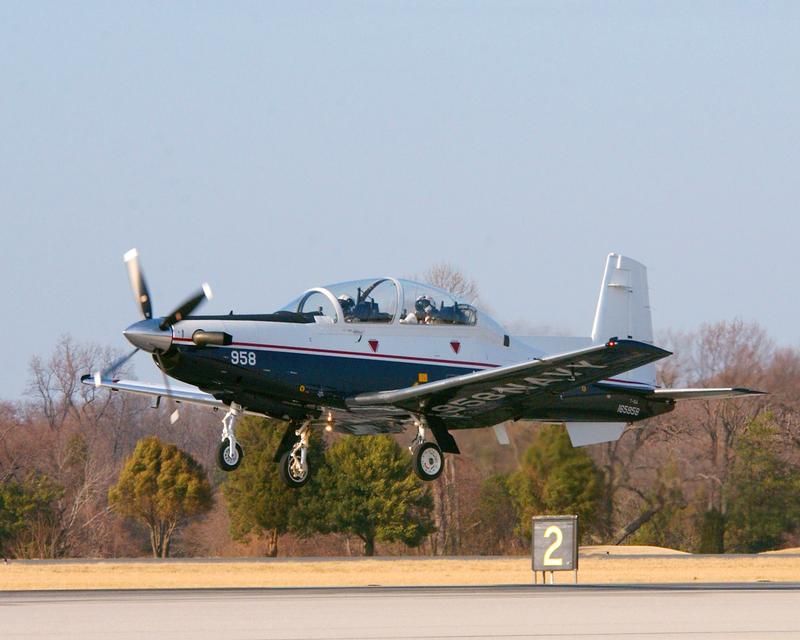 The T-6 trains Navy and Marine Corps pilots and Naval Flight Officers. It is the first aircraft to train all pilots. The T-6B Texan II is an upgraded version of the T-6A Texan II. The T-6 completed its first flight in July 2009 and became operational in April 2010. The aircraft is used to train the students in one of four areas: strike, maritime, turboprop, or helicopter tracks. Naval Air Stations Whiting Field, Fla., Pensacola, Fla., and Corpus Christi, TX all operate the T6 for training purposes.
DID YOU KNOW?
All pilots in the Navy or Marine Corps initially train in the T-6!
The T-6 program is a joint program with the Air Force as both branches initially train their pilots in the T-6!
The Navy's total T-6B requirement is 252 aircraft.
The aircraft is fully aerobatic and features a pressurized cockpit! The Hawkeye has been in service since 1964!
U.S. Navy T-6 Texan II FAST FACTS:
Manufacturer: Hawker Beechcraft
Engine: One Pratt & Whitney PT-6A-68 turboprop engine
Wingspan: 33.4 feet
Length: 33.3 feet
Height: 10.8 feet
Maximum Speed: 364 miles per hour
Range: 900 nautical miles
Ceiling: 31,000 feet
Maximum Takeoff Weight: 6,900 pounds
Crew: Two: Instructor pilot and student pilot
Unit Cost: $4.3 million
Website: https://www.navy.mil/Resources/Fact-Files/Display-FactFiles/Article/2166435/t-6b-texan-ii-turboprop-trainer/