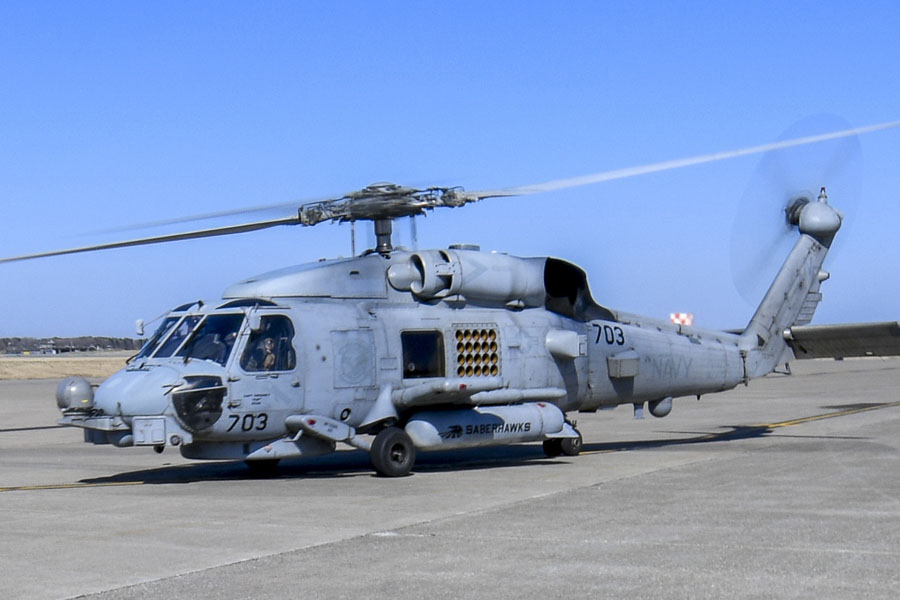 U.S. Navy MH-60R Seahawk
The MH-60 Seahawk is a do-it-all machine.  It participates in many missions including anti-surface warfare, surface warfare, search and rescue, vertical replenishment, Naval Surface fire support, logistics support, personnel transport, and medical evacuation.  The MH-60 replaced the Navy's SH-60B and SH-60F aircraft.  There are only two versions of the Sea Hawk in the Navy, the MH-60S and the MH-60R.
DID YOU KNOW?
The MH-60 can land on almost all Navy ships including cruisers, destroyers, and frigates!
The MH-60s can deploy sonobouys and torpedoes in an anti-submarine role.  They can also extend the range of the ship's radar capabilities!
MH-60R Seahawk FAST FACTS:
Manufacturer: Sikorsky Aircraft Corporation, Lockheed Martin Systems
Date Deployed: 2006
Engines: Two GE T700-GE-401 (C)
Length: 64 feet, 10 inches
Height: 17 feet
Maximum Speed: 180 knots
Ceiling: 13,000 feet
Range: 245 Nautical Miles
Maximum Weight: 23,500 pounds
Crew: Three
Inventory: 269
Inventory: 223