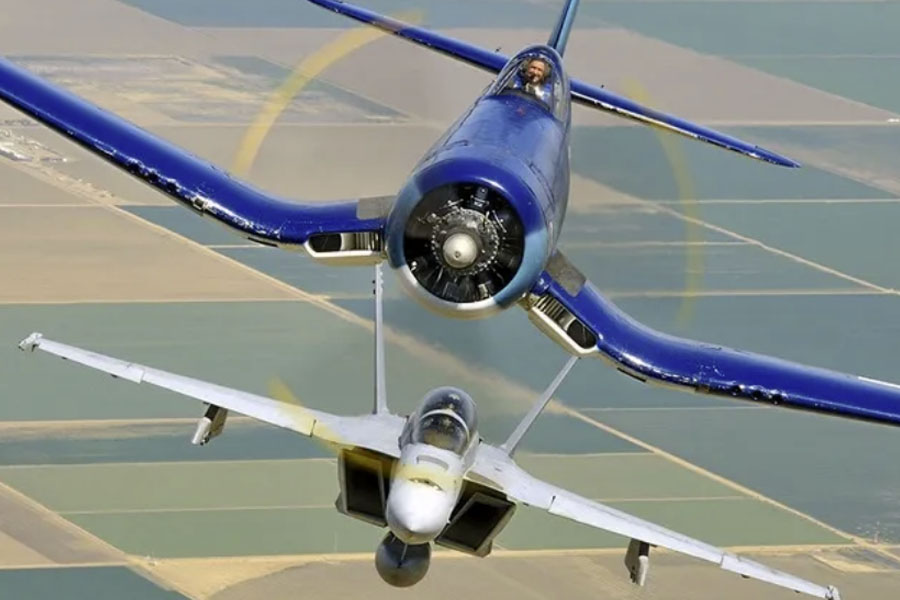 US Navy F/A-18F Super Hornet Legacy Flight:
The F/A-18 Super Hornet is the Navy's premier strike fighter.  Powered by two General Electric turbofan after-burning engines, the Hornet is supersonic with a top speed of Mach 1.8 (1,190 MPH). Spectators will witness history in the air as the Hornet will fly in formation with the Korean War Hero F4U-4 Corsair warbird, a matchup called the Legacy Flight.  The Corsair is well known for its distinctive "gull wing" and huge propeller with a 2,100 horsepower Pratt-Whitney radial engine.  The Super Hornet will be flown by pilots LT Griffin "Pushpop" Stangel and LT Joseph Kirksey.  The Corsair will be flown by veteran warbird pilot, Scott "Scooter" Yoak.
DID YOU KNOW?
The first airstrikes against ISIS were completed by an F/A-18 Super Hornet!The generators for the Super Hornet are made right here in Vandalia by GE Aviation!
The Super Hornet's first combat action was in November 2002!
The Super Hornet is the most cost-effective aircraft.  It costs less per hour than any other tactical aircraft in the U.S. armed forces inventory.
The Corsair first entered service in 1942 and is known for its' gull wings which fold up!
The Corsair was the first U.S. fighter to exceed 400 mph in level flight!
The Corsair was known to the Japanese on the ground as "Whistling Death" because of the unique sound generated by the air flowing over the oil coolers in a dive.
F/A-18F Super Hornet FAST FACTS:
Engines: Two GE F414-GE-400 turbofan engines
Thrust: 22,000 pounds per engine
Wingspan: 44 feet, 9 inches
Length: 60 feet, 3 inches
Height: 16 feet
Speed: Mach 1.8
Combat Range: 1,275 nautical miles
Ceiling: 50,000 feet
Maximum Takeoff Weight: 66,000 pounds
Fuel Capacity: 18,000 pounds internally
Crew: 2
Unit Cost: $57 million
Korean War Hero F4U-4 Corsair FAST FACTS:
Engines: Pratt & Whitney R2800, 18 cylinder, 2,650 hp
Maximum Weight: 15,200 pounds
Maximum Range: 1,983 nautical miles
Ceiling: 41,000 feet
Maximum Takeoff Weight: 66,000 pounds
Fuel Capacity: 234 gallons
Armament: (6) .50 caliber machine guns with 2,400 rounds; (8) 5' high velocity aircraft rockets;
(2) 1,000-pound bombs
Website: https://navylegacyflight.org/home