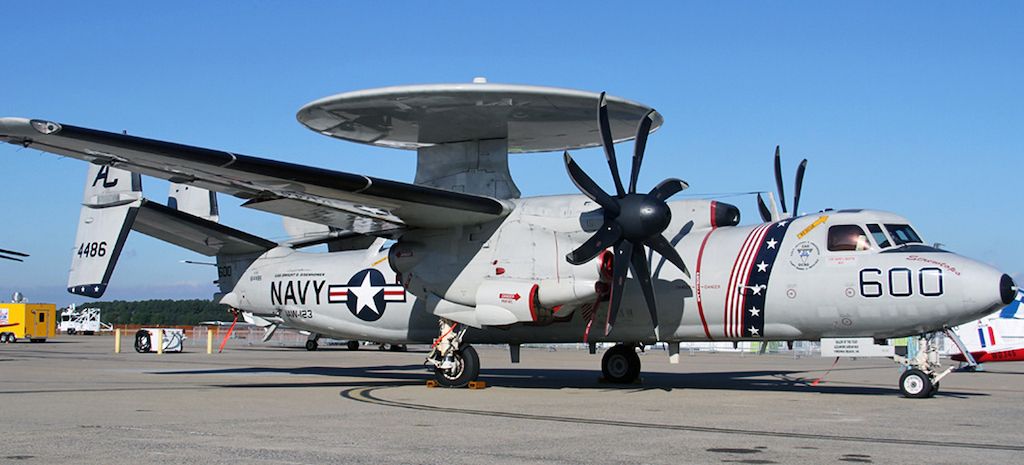 The Navy's all-weather, carrier-based tactical battle management airborne early warning, command and control aircraft will be on display for spectators to see. Since 1964, the Hawkeye has been the "eyes of the fleet." The E-2 has assisted many naval aircraft in combat including the F-14 Tomcat and the F/A-18 Hornet. The E-2C Hawkeye on display in Dayton will be traveling from Norfolk, VA.
DID YOU KNOW?
The E-2 Hawkeye is one of the most essential aircraft for carrier operations! It can detect enemy aircraft and ships at a farther range than fighter jets!
The Hawkeye can land on an aircraft carrier!
The E-2 replaced the E-1 Tracer in 1964, which was in service for 10 years!
The Hawkeye has been in service since 1964!
In August 2004, the E-2C Hawkeye surpassed one million flight hours!
The E-2C has been credited with providing superior air control during wars including for the shoot-down of two Iraqi MIG-21 aircraft by F/A-18s!
Hawkeyes have been very effective in supporting U.S. law enforcement agencies in drug interdictions!
U.S. Navy E-2C Hawkeye FAST FACTS:
Manufacturer: Northrop Grumman
Deployment date: January 1964
Engines: Two Allison T-56-A427 turboprop engines (5,100 shaft horsepower each)
Wingspan: 80 feet, 7 inches
Length: 57 feet, 6 inches
Height: 18 feet, 3 inches
Speed: 345 miles per hour
Range: 2,400 nautical miles
Ceiling: 30,000 feet
Maximum Takeoff Weight: 53,000 pounds
Crew: Five
Unit Cost: $80 million
Website: https://www.navy.mil/Resources/Fact-Files/Display-FactFiles/Article/2382134/e-2-hawkeye-airborne-command-and-control-aircraft/