U.S. Army UH-60 Blackhawk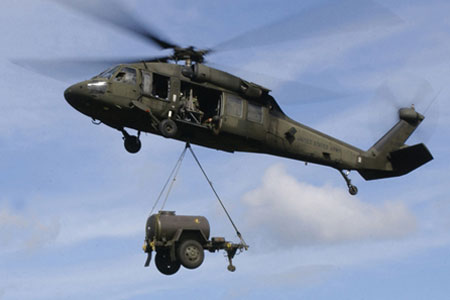 The Blackhawk a primary aircraft for the U.S. Army and has been for over 35 years. This incredible aircraft has been used for numerous missions including delivering and extracting troops from combat zones, medevac, providing supplies to troops, delivering supplies during natural disasters, aerial firefighting, and patrolling the border. The U.S. Army has nearly 2,400 Blackhawks.
DID YOU KNOW?
The aircraft is equipped to carry 8,000 pounds of cargo on the external hook!
The Blackhawk is able to fly on only one engine!
The UH-60 is resistant to anti-craft artillery and has sensors that detect damage!
UH-60 Blackhawk FAST FACTS:
Manufacturer: Sikorsky Aircraft Corporation, Lockheed Martin Systems
Engines: Two GE T700-GE-401C
Length: 65 feet
Wingspan: 54 feet
Speed: 183 mph
Range: 320 Nautical Miles
Maximum Load: 2,640 pounds or 11 combat-equipped troops
Crew: Four: 2 pilots and 2 crew chiefs
Unit Cost: $21.3 million
Website: https://www.lockheedmartin.com/en-us/products/sikorsky-black-hawk-helicopter.html