U.S. Air Force Thunderbirds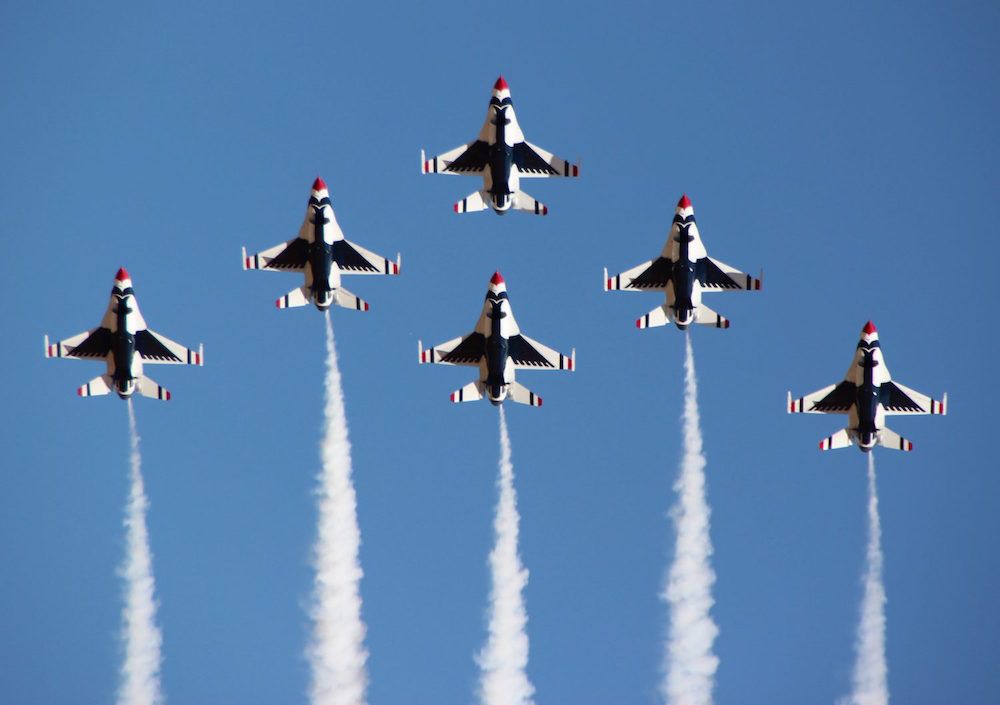 Flying six General Dynamic F-16 Fighting Falcons, a premier multi-role fighter jet, the Thunderbirds, known as America's Ambassadors in Blue, will dazzle spectators with their incredible flying skills. In Commanded by LtCol Justin Elliott, the Thunderbirds reflect the precision and professionalism of American Airmen thrilling millions of spectators around the globe. 2023 will mark the 70th year the Thunderbirds have been performing.
Did you know?
The Thunderbirds first civilian show was in July 1953 in Cheyenne, WY for Frontier Days!
The Thunderbirds were named because of the strong Native American culture in the southwestern United States. Native American folklore tells of birdlike creature which creates thunder by flapping its wings. The Native Americans called this creature a "Thunderbird".
Five other types of aircraft have been used prior to the F-16 Fight Falcon. They are: the F-84G Thunderjet, F-105 Thunderchief, F-100C Super Sabre, F-4 Phantom, and the T-38 Talon.
It only takes 72 hours for a Thunderbird jet to be made combat ready!
The wheels and brakes of the F-16 are made by Collins Aerospace Systems in Troy, Ohio!
F-16 Fighting Falcon - FAST FACTS
Engine: One Pratt & Whitney F100-PW-200
Thrust: 27,000 pounds
Wingspan: 32 feet, 8 inches
Length: 49 feet, 5 inches
Height: 16 feet
Speed: Mach 2 at altitude
Combat Range: 1,740 nautical miles
Ceiling: Above 50,000 feet
Maximum Takeoff Weight: 37,500 pounds
Fuel Capacity: 7,000 pounds internally
Crew: One
Unit Cost: $14.6 million (fiscal 98 constant dollars)
Inventory: F-16C/D, 1,017
Website: http://afthunderbirds.com/site/