U.S. Air Force T-6A Texan II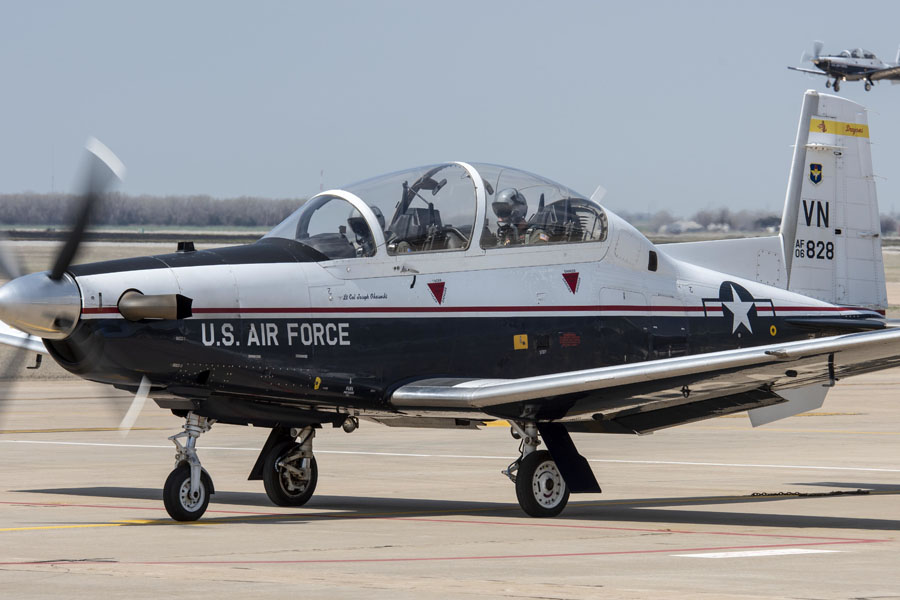 U.S. Air Force T-6A Texan II
The T-6 trains Air Force pilots.  The aircraft is fully aerobatic with a pressurized cockpit.  It also has an anti-G system and ejection seat.  In May 2000, the first operational T-6A was delivered to Randolph Air Force Base, Texas.  The T-6 completed its first flight in July 2009 and became operational in April 2010.  The aircraft is used to train the students in one of four areas: strike (bomber/fighter), airlift-tanker or maritime, turboprop, or helicopter tracks.  Currently, the T-6A aircraft is located at Columbus AFB, Mississippi, Vance AFB, Oklahoma, Laughlin AFB, Texas, and Sheppard AFB, Texas.
DID YOU KNOW?
All pilots in the Air Force initially train in the T-6!
The T-6 program is a joint program with the Navy as both branches initially train their pilots in the T-6!
The aircraft is fully aerobatic and features a pressurized cockpit!
T-6A Texan II FAST FACTS:
Manufacturer: Raytheon Aircraft Co.
Engine: 1 Pratt & Whitney PT-6A-68 turboprop engine
Length: 33.4 feet
Height: 10.7 feet
Wingspan: 33.5 feet
Empty weight: 6,500 pounds
Speed: 320 miles per hour
Ceiling: 31,000 feet
Range: 900 nautical miles
Crew: Two: instructor pilot and student pilot
Unit Cost: $4.3 million
Inventory: 446
Website: https://www.af.mil/About-Us/Fact-Sheets/Display/Article/104548/t-6a-texan-ii/