U.S. Air Force KC-135 Stratotanker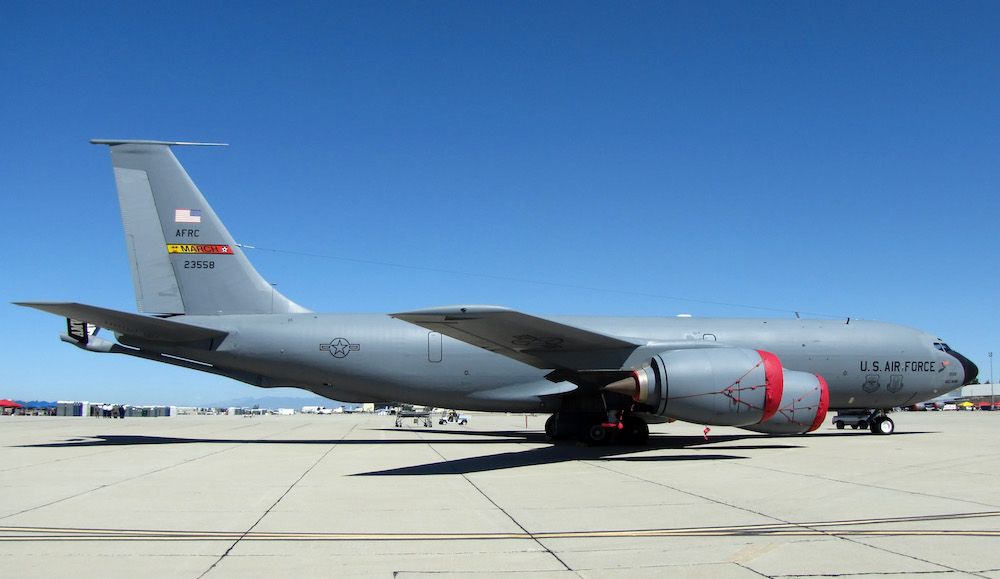 Ever wonder how aircraft refuel in mid-air? A KC-135 Stratotanker which does aerial refueling will be on display for spectators to view, go on-board and talk to the crew. The Boeing KC-135 Stratotanker has been the aerial refueling workhorse of the United States Air Force for more than 50 years providing refueling support to Air Force, Navy, Marine Corps and allied nations aircraft. The KC-135 is also capable of transporting litter and ambulatory patients using patient support pallets during aeromedical evacuations. The U.S. Air Force also has approximately 60 KC-10 Extender aerial refueling aircraft in service. The KC-135 and KC-10 will eventually be replaced by the Boeing KC-46A Pegasus, new generation aerial refueling tanker, over the next 20 years beginning in 2017.
DID YOU KNOW?
The KC-135 transfers enough fuel through the refueling boom in one minute to operate the average family car for more than a year!
The maximum transfer fuel load is 200,000 pounds. That's enough to refuel the entire Blue Angels demonstration team (jets 1-6) 3 times!
It can transfer more fuel in 8 minutes than a gas station could pump in 24 hours!
The Stratotanker can actually tow a fighter jet while being hooked up for a refueling at 30,000′ going 500 MPH!
The boom operator is positioned only 20 feet from the cockpit of the aircraft being refueled!
KC-135 FAST FACTS:
Engines: Four CFM-56 turbofan engines with 21,634 pounds of thrust each
Wingspan: 130 feet, 10 inches
Length: 136 feet, 3 inches
Height: 41 feet, 8 inches
Speed: 530 miles per hour at 30,000 feet
Range: 1,500 miles with 150,000 pounds of transfer fuel
Maximum Takeoff Weight: 322,500 pounds
Maximum Cargo Capability: 83,000 pounds, 37 passengers
Crew: Three: pilot, co-pilot and aerial refueling boom operator. Some KC-135 missions require the addition of a navigator.
Aeromedical Missions: A basic crew of five (two flight nurses and three medical technicians)
Unit Cost: $39.6 million (fiscal 98 constant dollars)
Inventory: 414 aircraft assigned to USAF Air Mobility Command. Air Force Reserve and Air National Guard fly 247 aircraft in support of AMC's mission world-wide.
Website: https://www.af.mil/About-Us/Fact-Sheets/Display/Article/1529736/kc-135-stratotanker/