U.S. Air Force KC-10 Extender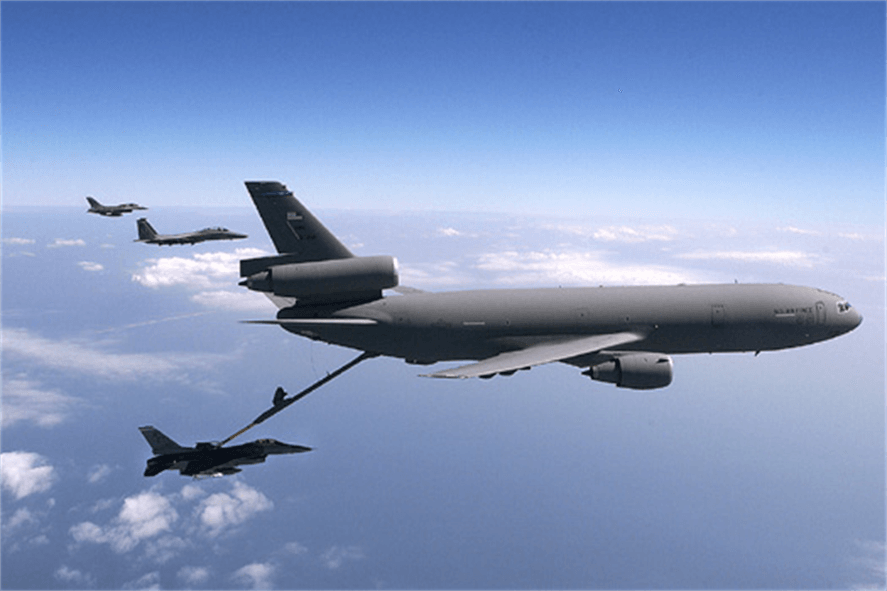 Ever wonder how aircraft refuel in mid-air? A KC-10 Extender will be on display for spectators to learn has this aircraft fuels other aircraft in mid-air. The primary mission of the KC-10 is aerial refueling, but it can also serve as a cargo aircraft by carrying the fighter support personnel and equipment on overseas deployments. The KC-10 can also transport ambulatory patients during aeromedical evacuations. This year's KC-10 is coming from the 60th Air Mobility Wing at Travis Air Force Base in California.
DID YOU KNOW?
The capacity of the six fuel tanks on the KC-10 carries more than 356,000 pounds of fuel- almost twice as much as the KC-135!
The cargo compartment of the KC-10 can carry loads ranging from 27 pallets to a mix of 17 pallets and 75 passengers!
During boom refueling operations, fuel is transferred to the receiving aircraft at a maximum rate of 1,100 gallons per minute!
During operations Enduring Freedom and Iraqi Freedom, KC-10s flew more than 1,390 missions delivering critical air refueling support to numerous joint and coalition receiver aircraft!
KC-10 FAST FACTS:
Engines: Three GE CF6-50C2 turbofan engines
Thrust: 52,500 pounds of thrust each engine
Wingspan: 165 feet, 4.5 inches
Length: 181 feet, 7 inches
Height: 58 feet, 1 inch
Speed: 619 miles per hour
Ceiling: 42,000 feet
Range: 4,400 miles with cargo; 11,500 miles without cargo
Maximum Takeoff Weight: 590,000 pounds
Maximum Cargo Capability: 83,000 pounds, 37 passengers
Crew: Four: pilot, co-pilot, flight engineer, and aerial refueling boom operator.
Unit Cost: $88.4 million (fiscal 98 constant dollars)
Inventory: 59
Website: https://www.af.mil/About-Us/Fact-Sheets/Display/Article/104520/kc-10-extender/