U.S. Air Force C-5M Super Galaxy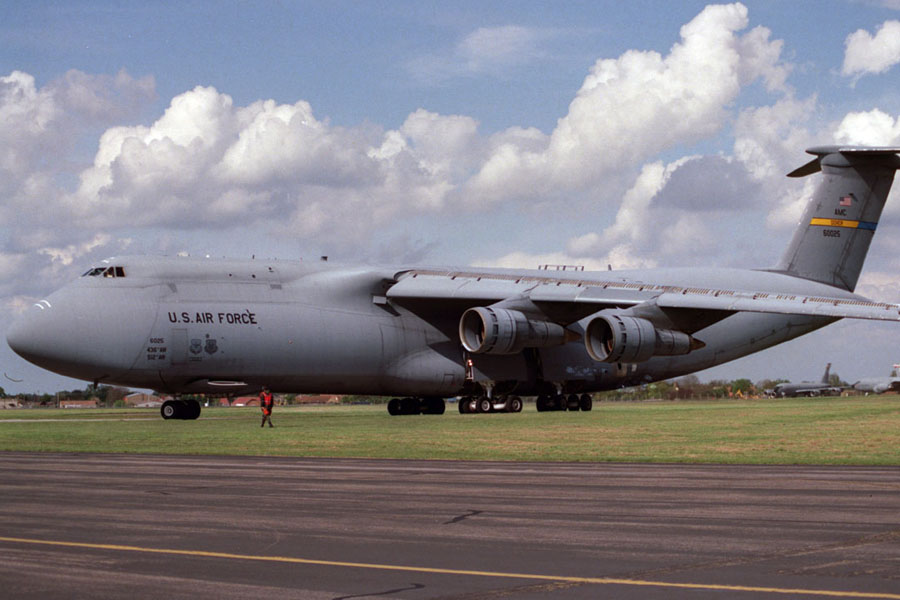 U.S. AIR FORCE C-5M SUPER GALAXY:
The C-5M is a strategic transport aircraft and is the largest aircraft in the Air Force inventory.  It's nearly 25 percent larger than the next biggest aircraft in the Air Force.  The primary mission of the aircraft is to transport cargo and personnel.  The first operational C-5 was delivered to the Air Force in June 1970.  It flew its first mission on July 9, 1970 during the Vietnam War.  The C-5 traveling to Dayton is from the 60th Air Mobility Wing based at Travis Air Force Base in California.
DID YOU KNOW?
The distance of the first flight by the Wright brothers was less than the length of the C-5 cargo floor!
The C-5 can hold enough fuel for the average car to make 130 round trips between New York and Los Angeles or 31 trips around the world!
The cargo compartment is large enough to hold an eight-lane bowling alley!
The C-5 can carry 5 Apache helicopters in the cargo compartment!
C-5M FAST FACTS:
Manufacturer: Lockheed Martin
Engines: Four F-138-GE100 General Electric engines
Wingspan: 222 feet, 9 inches
Length: 247 feet, 10 inches
Height: 63 feet, 2 inches
Speed: 518 MPH
Range: 5,524 statute miles or 4,800 nautical miles
Ceiling: 34,000 feet
Maximum Takeoff Weight: 838,000 pounds
Maximum Cargo: 281,001 pounds
Crew: Seven: pilot, co-pilot, two flight engineers, and three loadmasters
Website: https://www.af.mil/About-Us/Fact-Sheets/Display/Article/104492/c-5-abc-galaxy-c-5m-super-galaxy/