U.S. Air Force C-17 Globemaster III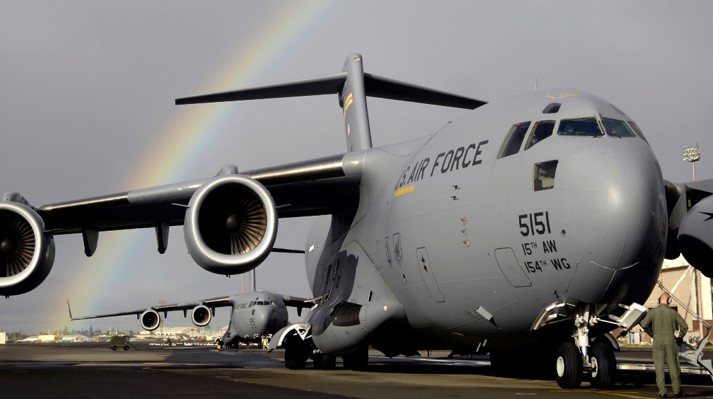 The C-17 Globemaster III will perform a demonstration at this year's show. The massive Boeing C-17 Globemaster III is the newest and one of the largest aircrafts in the Air Force inventory. Weighing in at a maximum takeoff weight of 585,000 pounds and flying as fast as 590 mph the 200-foot-long C-17 will show off its impressive aerial capability. The C-17's primary mission is to transport equipment, supplies and troops around the world. The Dayton-based 445th Airlift Wing flies the C-17 out of Wright-Patterson Air Force Base. The aircraft last performed an aerial demonstration at Dayton in 2021. The demo aircraft and crews will be traveling to Dayton from the 15th Airlift Squadron at Joint Base Charleston, S.C.
DID YOU KNOW?
The C-17 can land in 3,000 feet or less on a paved or unpaved airfield!
It can haul the Army's main battle tank, an M-1 Abrams, which weighs 70 tons!
Three combat-ready Stryker vehicles belonging to the U.S. Army can be transported by the C-17!
Six Guardian Armored Security vehicles can fit inside the C-17!
The C-17 has set 33 world records- more than any other airlifter in history!
It can be refueled while in flight!
C-17 FAST FACTS:
Manufacturer: Boeing
Engines: Four Pratt & Whitney F117-PW-100 turbofan engines with 40,440 pounds of thrust each
Wingspan: 169 feet, 10 inches
Length: 174 feet
Height: 55 feet, 1 inch
Speed: 520 miles per hour at 28,000 feet
Range: 2,400 nautical miles
Maximum Takeoff Weight: 585,000 pounds
Maximum Cargo Capability: 170,900 pounds, 102 troops, 36 litter and 54 ambulatory patients and attendants
Crew: Three: pilot, co-pilot and loadmaster
Aeromedical Missions: A basic crew of five (two flight nurses and three medical technicians)
Unit Cost: $202.3 million (fiscal 98 constant dollars)
Inventory: 223 assigned to the U.S. Air Force. There are a total of 267 C-17s worldwide.