U.S. Air Force C-17 Globemaster III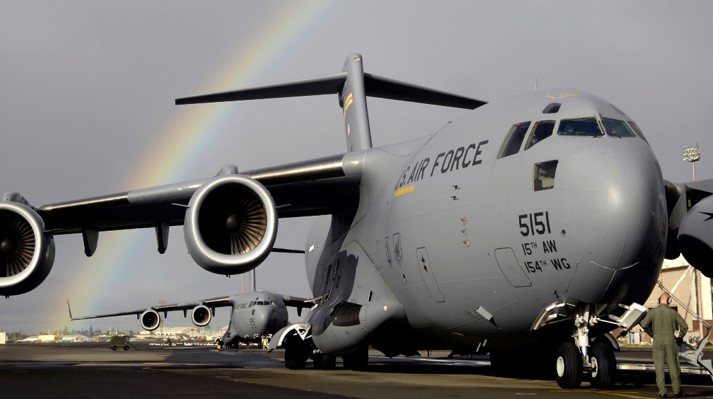 One of the U.S. Air Force's largest aircraft will be on display for spectators to tour! The C-17 Globemaster III, affectionately known as "The Moose" due to its bulky look, will once again be on display at the Vectren Dayton Air Show. The C-17 is the mainstay of America's heavy hauling cargo fleet. It delivers troops and cargo and also performs tactical airlift, medical evacuation and airdrop duties. The C-17 will come from Dayton's very own 445th Airlift Wing at Wright-Patterson AFB.
DID YOU KNOW?
The C-17 can land in 3,000 feet or less on a paved or unpaved airfield!
It can haul the Army's main battle tank, an M-1 Abrams, which weighs 70 tons!
Three combat-ready Stryker vehicles belonging to the U.S. Army can be transported by the C-17!
Six Guardian Armored Security vehicles can fit inside the C-17!
The C-17 has set 33 world records- more than any other airlifter in history!
It can be refueled while in flight!
C-17 FAST FACTS:
Manufacturer: Boeing
Engines: Four Pratt & Whitney F117-PW-100 turbofan engines with 40,440 pounds of thrust each
Wingspan: 169 feet, 10 inches
Length: 174 feet
Height: 55 feet, 1 inch
Speed: 520 miles per hour at 28,000 feet
Range: 2,400 nautical miles
Maximum Takeoff Weight: 585,000 pounds
Maximum Cargo Capability: 170,900 pounds, 102 troops, 36 litter and 54 ambulatory patients and attendants
Crew: Three: pilot, co-pilot and loadmaster
Aeromedical Missions: A basic crew of five (two flight nurses and three medical technicians)
Unit Cost: $202.3 million (fiscal 98 constant dollars)
Inventory: 223 assigned to the U.S. Air Force. There are a total of 267 C-17s worldwide.