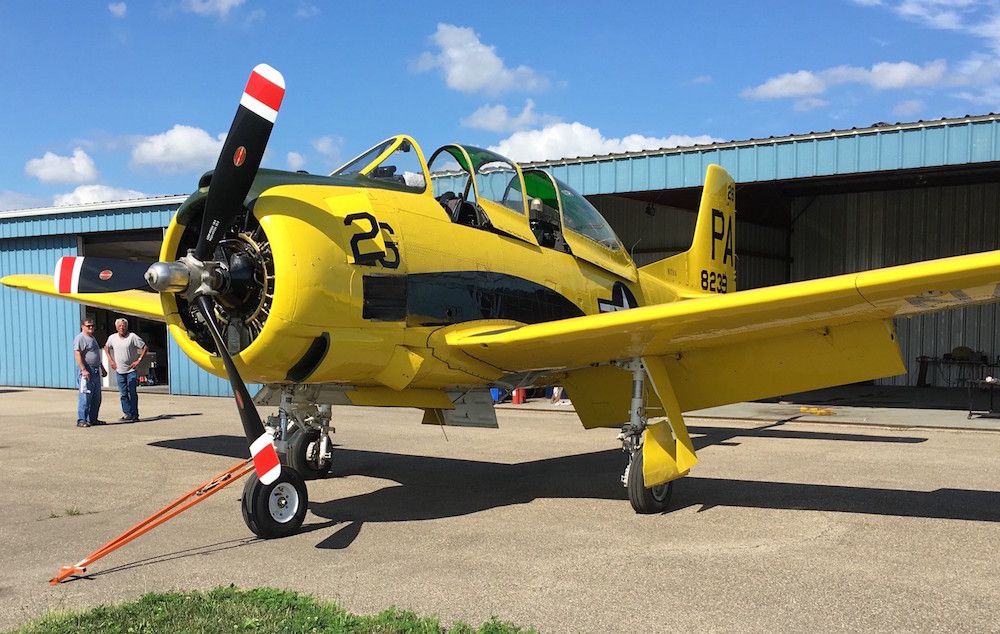 The T-28 was a basic trainer that was built for both the Air Force and Navy. Three versions were ordered by the U.S. military. The T-28A was used by the U.S. Air Force. The T-28B Trojan was used by the U.S. Navy and served as a trainer from 1952 until 1984. While its basic purpose was a trainer, it was used during the Vietnam War for counter insurgency missions. The T-28C was also used by the U.S. Navy and had an arrester hook for carrier landings. The T-28 replaced the SNJ.
DID YOU KNOW?
The T-28 on display is owned locally by Verlin "Mac" McIntosh in Farmersville, Ohio!
It was manufactured in Columbus, Ohio in 1955!
The U.S. Navy used this particular aircraft as an advanced trainer in Pensacola, Florida!
T-28B Trojan FAST FACTS:
Manufacturer: North American
Engine: One Wright 1820-86B
Wingspan: 41 feet
Length: 33 feet
Height: 13 feet
Maximum Speed: 393 miles per hour
Range: 1,060 nautical miles
Ceiling: 37,500 feet
Gross Weight: 10,200 pounds
Crew: Two: Instructor pilot and student pilot