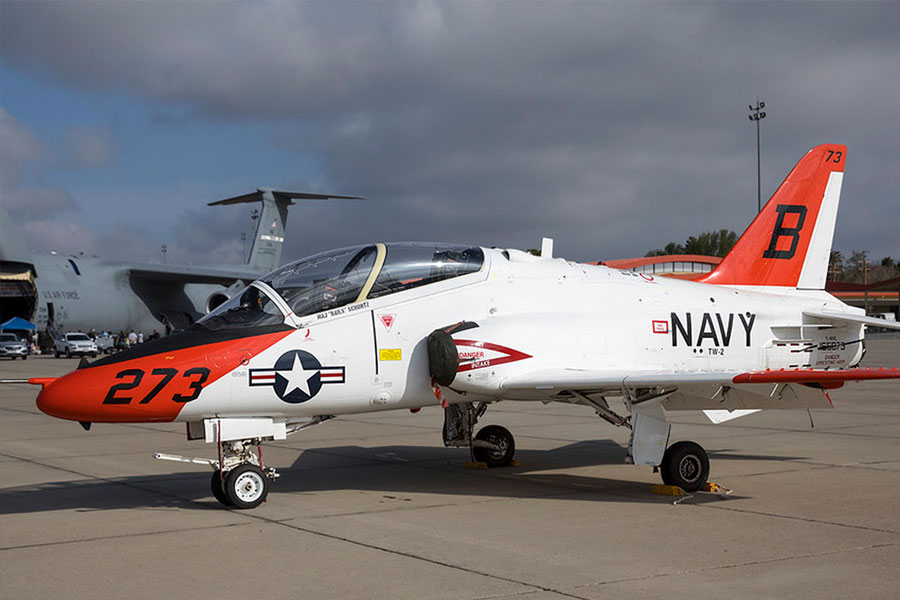 The T-45A aircraft is a jet trainer aircraft used to train Navy and Marine Corps pilots. The T-45A has replaced the T-2 Buckeye and the TA-4 trainer. Its primary training purpose is to train Navy/Marine Corps pilots for jet carrier aviation and tactical strike missions. Every Navy/Marine Corps pilot initially trains in a T-6. Pilots who are selected as jet pilots then start their training in a T-45A aircraft. The T-45 travels from Naval Air Station Meridian in Mississippi.
DID YOU KNOW?
The T-45 is used to train tactical jet pilots to fly an F/A-18, AV-8B Harrier, and other carrier based aircraft!
The Goshawk is a similar version of the BAE Systems Hawk T1, which is the aircraft flown by the Red Arrows, the Royal Air Force's demonstration team!
The T-45A became operational in 1991!
Naval Air Station Meridian in Mississippi and Naval Air Station Kingsville in Texas are the two bases where T-45's are located.
FAST FACTS:
Manufacturer: Boeing
Engines: Rolls Royce F405-RR-401 turbofan engine with 5,527 pounds of thrust
Length: 39 feet, 4 inches
Height: 13 feet, 6 inches
Wingspan: 30 feet, 10 inches
Maximum takeoff weight: 13,500 pounds
Maximum speed: 645 miles per hour
Ceiling: 42,500 feet
Range: 700 nautical miles (805 statute miles)
Crew: Two: instructor pilot and student pilot
Unit Cost: $17.2 million
Website: https://www.navy.mil/Resources/Fact-Files/Display-FactFiles/Article/2166516/t-45a-goshawk-training-aircraft/