P-51D Mustang "Cincinnati Miss"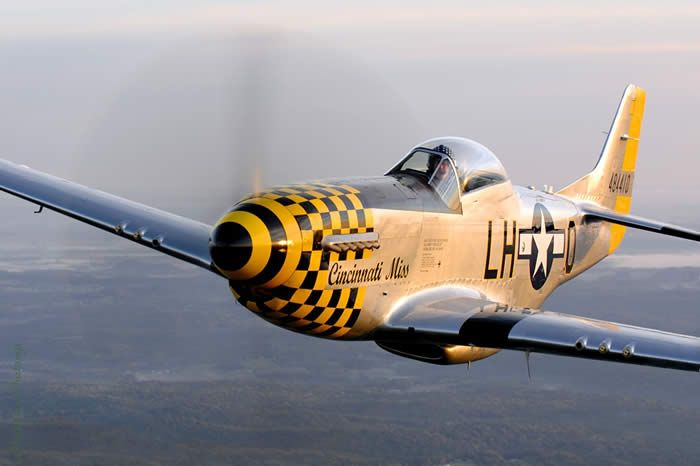 "Cincinnati Miss", a P-51D, will be on display at this year's Vectren Dayton Air Show. The P-51 will be traveling from Batavia, a suburban area of Cincinnati. The P-51 was a "game changer" for WWII as the Mustang provided critical escort for bombers. The maneuverable Mustang is fast and was a proven champ in dogfights with German fighters.
DID YOU KNOW?
The P-51 is a veteran of both World War II and the Korean War!
It was designed and built in just 117 days!
The Mustang first flew with the Royal Air Force as a fighter-bomber and reconnaissance aircraft!
The P-51 was in service with Allied air forces in Europe and saw limited service against the Japanese in the Pacific War.
The Mustang was initially the main fighter during the Korean War, but jet fighters such as the F-86 quickly changed its role!
The P-51 has 4,950 air kills and 4,131 ground kills!
The P-51D version was the most widely produced version of the P-51 with nearly 9,600 produced!
P-51D Mustang FAST FACTS:
Engine: Packard V-1650 "Merlin"
Horsepower: 1,695
Wingspan: 37 feet
Length: 32 feet
Height: 8 feet, 8 inches
Max Speed: 425 mph
Combat Range: 1,155 nautical miles
Gross Weight: 12,100 pounds
Fuel Capacity: 269 gallons
Website: http://www.tri-statewarbirdmuseum.org/aircraft.html