P-51C Red Tail Mustang "Tuskegee Airmen"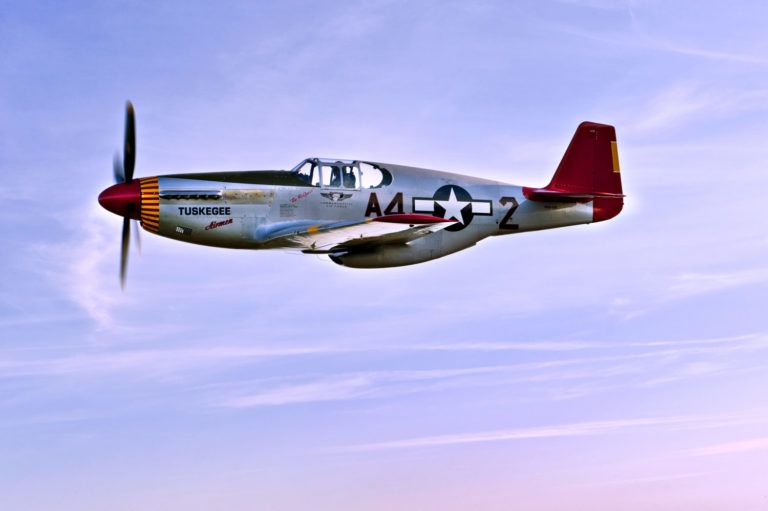 The Commemorative Air Force (CAF) Red Tail Squadron has selected Dayton for an appearance of its Tuskegee P-51 Mustang aircraft and Rise Above Theater production. CAF's mission is to educate audiences across the country about the history and legacy of the Tuskegee Airmen – America's first black military pilots. These airmen became legendary because their strength of character, courage and ability to triumph over adversity served to inspire others to RISE ABOVE obstacles in their own lives and achieve their goals. The CAF presentation will include a flight and display of the P-51 Mustang Red Tail aircraft Tuskegee Airmen flew. The Rise Above theater is a 30-seat panoramic film presentation of the Tuskegee Airmen's story.
DID YOU KNOW?
The Tuskegee Airmen were America's first black military pilots and support personnel!
Tuskegee Airmen's unique paint scheme reflects the 332nd Group's four squadrons: red and yellow cowling of the 302nd; the "A" of the 99th; yellow wing bands of the 301st, and the red fins of the 100th.
The phrase "By Request" just under the side windows was the name Benjamin O. Davis Jr., 332nd Fighter Group leader, gave his aircraft. Bomber crews were calling on the Tuskegee-trained pilots to escort them because of their reputation for getting bombers to their targets unharmed-so, they were flying "by request."
P-51C Mustang FAST FACTS:
Engine: 1 Rolls-Royce Packard V-1650 "Merlin"
Horsepower: 1,490
Wingspan: 37 feet
Length: 32 feet, 3 inches
Height: 12 feet, 2 inches
Max Speed: 505 mph
Ceiling: 41,600 feet
Combat Range: 1,000 miles
Gross Weight: 12,100 pounds
Website: https://www.redtail.org/