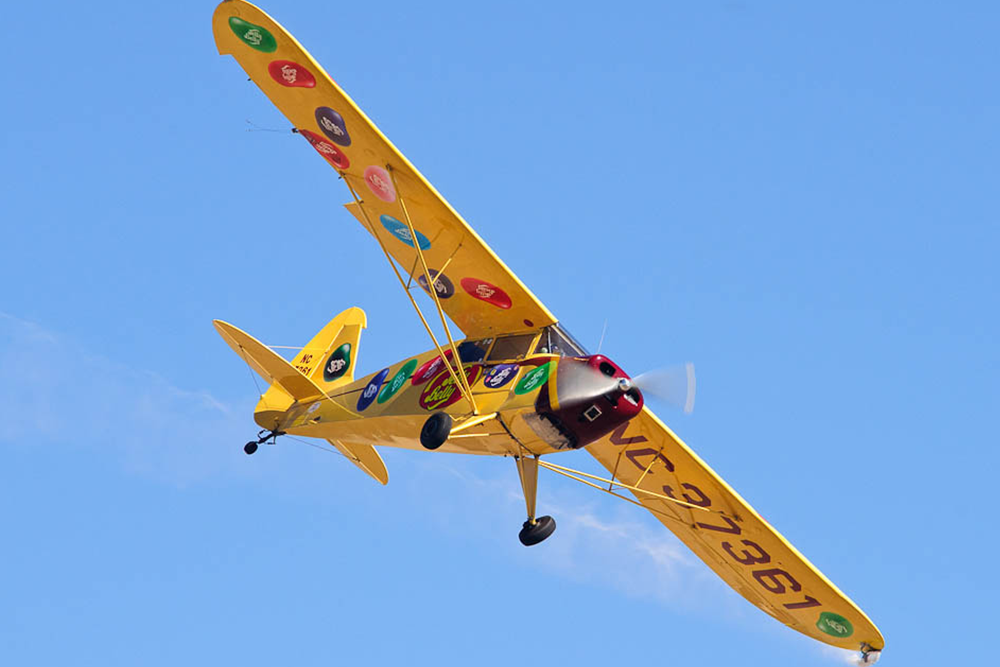 Kent Pietsch Airshows:
Pilot Kent Pietsch's specialty acts are designed to thrill audiences featuring airplanes that lose parts, engines that quit mid-flight, and extraordinary landings. Pietsch will perform not just one but two acts in his Jelly Belly Interstate Cadet S-1A-65F. These include a dead-stick routine from 6,000 feet as well as his best-known comedy act. The act features a detached wing flap and a mesmerizing wingtip-scraping pass down the runway.
Pietsch's Interstate Cadet is a high wing, single-engine monoplane weighing 800 pounds with a 37-foot wingspan. Originally produced between 1941 and 1942 for World War II, the aircraft can generate up to 90 horsepower and reach a force of 5Gs. Pietsch has been entertaining air show audiences for 40 years.  He will be making his debut appearance at this year's show.
DID YOU KNOW?
Kent completed his first solo flight at 16 years old!
He holds an Airframe and Power Plant Mechanic license and has his own maintenance hangar in North Dakota!
Kent has received several air show awards including the Bill Barber Award for Showmanship, Art Scholl Memorial Award for Showmanship, and has been inducted into the Air Show Hall of Fame!
He is currently rebuilding a 1929 Waco Taperwing biplane and a Starduster!
S-1A Cadet FAST FACTS:
Engine: Lycoming
Wingspan: 35 feet, 6 inches
Length: 23 feet, 5 inches
Range: 350 miles
Ceiling: 14,500 feet
Maximum Speed: 107 MPH
Empty Weight: 720 pounds
Website: www.kentpietschairshows.com