U.S. Air Force KC-46 Pegasus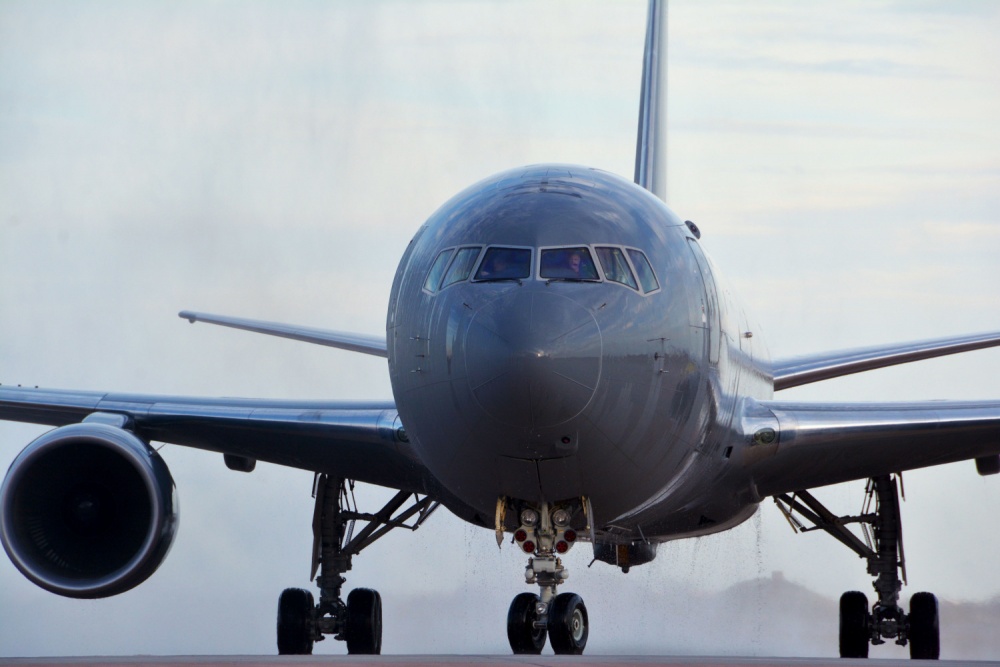 The KC-46A is the first phase in recapitalizing the U.S. Air Force's aging tanker fleet. With greater refueling, cargo and aeromedical evacuation capabilities compared to the KC-135, the KC-46A will provide next generation aerial refueling support to Air Force, Navy, Marine Corps and partner-nation receivers.
At full operational capability, the KC-46A will be able to refuel most fixed-wing, receiver-capable aircraft. The KC-46A is equipped with a refueling boom driven by a fly-by-wire control system, and is capable of fuel offload rates required for large aircraft. Its hose and drogue system adds additional mission capability that is independently operable from the refueling boom system.
The KC-46A can accommodate a mixed load of passengers, aeromedical evacuation and cargo capabilities. Two high-bypass turbofans power the KC-46A to takeoff at gross weights up to 415,000 pounds. Depending on fuel storage configuration, the aircraft can carry a palletized load of up to 65,000 pounds of cargo. The KC-46A can carry up to 18 463L cargo pallets. Seat tracks and the onboard cargo handling system make it possible to simultaneously carry palletized cargo and passenger seats in a variety of combinations. The KC-46A is also equipped with a number of self-protection, defensive and communication features making it more survivable in a contested environment.
General Characteristics
Primary Function: Aerial refueling and airlift
Prime Contractor: The Boeing Company
Power Plant: 2 Pratt & Whitney 4062
Thrust: 62,000 lbs. - Thrust per High-Bypass engine (sea-level standard day)
Wingspan: 156 feet, 1 inch (47.5 meters)
Length: 159 feet, 2 inches (48.5 meters)
Height: 51 feet, 9 inches (15.5 meters)