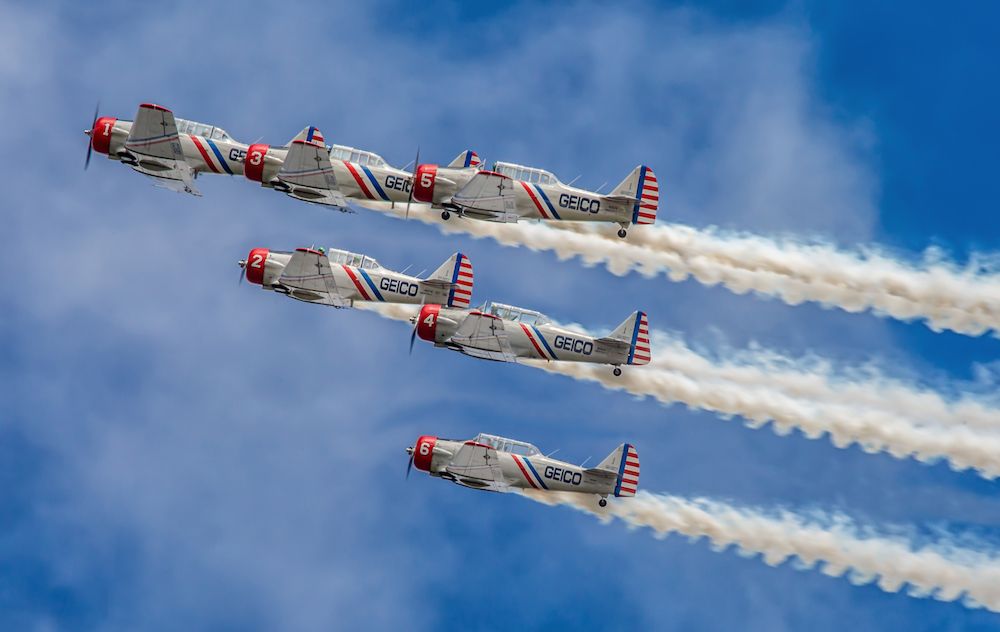 The planes that trained World War II Navy pilots will make the trip to Dayton to thrill spectators with a breathtaking demonstration of precision combat maneuvers that helped define pilots of the Greatest Generation. The team's six vintage SNJ training aircraft will roar over air show crowds in an 18-minute, low-level, precision-flying demonstration honoring the US Armed Forces. Nearly every Allied pilot who flew in the Second World War strapped into a North American Aviation designed T-6 or SNJ. The GEICO Skytypers fly the SNJ-2 version. In addition to their air show performances, the team types giant messages in the sky. Flying wingtip-to-wingtip in a line-abreast formation, the lead plane sends computer signals to each of four other aircraft, synchronizing smoke releases to generate 1,000-foot-tall messages.
Did You Know?
Most of the team members earned their wings in the military!
The aircraft used by the team were originally built in 1940 and 1941 during World War II!
The aircraft fly approximately 250 feet apart to create letters 1,000 feet in height with messages spanning 6-8 miles in length!
Each letter the GEICO Skytypers types is higher than the Empire State Building with 20-25 character messages created in under two minutes!
People can see the messages from 15 miles away!
Skytyping is 17 times faster than skywriting! A single letter is created every 4 seconds!
SNJ-2 Fast Facts
Engine: Pratt & Whitney Wasp R-1340-36
Wingspan: 24 feet, 7 inches
Length: 28 feet, 11 inches
Climb Speed: 140 mph
Speed: 213 mph at 6,000 feet
Maximum Gross Weight: 4,954 pounds
Website: https://geicoskytypers.com/