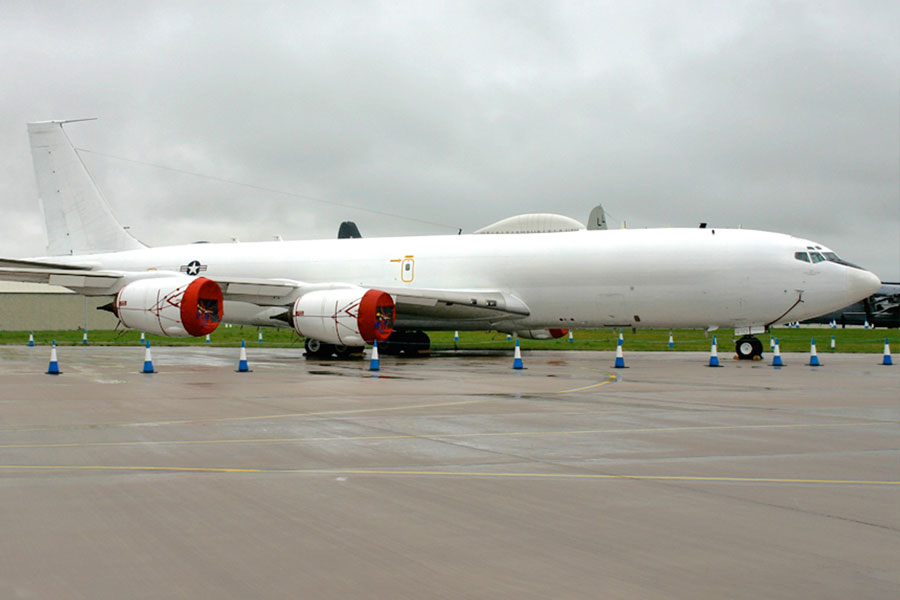 The E-6 Mercury connects the national command authority with the U.S. Navy's nuclear missile force carried aboard at-sea ballistic missile submarines. The E-6 is a militarized version of the commercial 707 civilian airliner and carries a very low frequency communication system with dual trailing wire antennas. The E-6 is the Navy's largest aircraft.  Nicknamed Mercury, the E-6 was built for the Navy by Boeing as a replacement for the invincible EC-130 Hercules that had provided 30 years of faithful service.
DID YOU KNOW?
The Mercury and the Air Force E-3 Sentry are both adapted from Boeing's 707 airliner aircraft.
The E-6 is equipped with an airborne launch control system (ALCS), which is capable of launching U.S. land based intercontinental ballistic missiles.
The E-6, like the Navy's Boeing P-8 Poseidon aircraft, is reliant on U.S. Air Force tanker aircraft for in-flight refueling.
FAST FACTS:
Engine: Four CFM International CFM56-2A-2 Turbofans
Thrust: 96,000 pounds
Wingspan: 148 feet, 2 inches
Length: 152 feet, 11 inches
Height: 42 feet, 5 inches
Speed: 610 mph
Range: 7,600 miles
Ceiling:  40,000 feet
Maximum Takeoff Weight: 342,000 pounds
Crew: 22 Aircrew
Unit Cost: $141.7 million
Inventory:  16