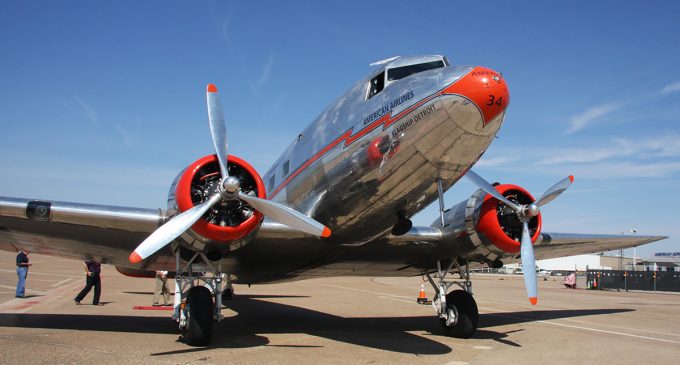 Welcome aboard the airliner that transformed air travel in the United States, the Douglas DC-3. Manufactured in 1937, the Flagship Detroit was the 21st of 84 DC-3's delivered to American Airlines and operated between 1936 and 1947. She was restored as a flying tribute to employees and is flown by retired American Airlines' pilots, who will appear in period-uniforms. The Flagship Detroit has the honor of being the oldest flying DC-3 in the world today.
DID YOU KNOW?
Flagship Detroit was manufactured in 1937 and was accepted by American Airlines on March 2, 1937!
Flagship Detroit is the oldest flying DC-3 in the world!
It was the 21st of American Airlines 84 DC-3's operated from 1936 to 1947!
The "DC" in DC-3 stands for Douglas Commercial!
Including military versions of the DC-3 in World War II there were over 10,000 built!
DC-3 Flagship Detroit FAST FACTS:
Manufacturer: Douglas
Engines: Two Wright R-1820 Cyclone 9-cylinder air-cooled radial piston engine, 1,350 horsepower each
Length: 64 feet, 8 inches
Height: 16 feet, 11 inches
Wingspan: 95 feet, 2 inches
Maximum Speed: 230 miles per hour
Ceiling: 23,000 feet
Range: 1,500 statute miles
Maximum Takeoff Weight: 25,199 pounds
Crew: 2
Capacity: 21-32 passengers
Unit Cost: $79,500 (equivalent to $1,372,147 in 2015)
Website: https://www.flagshipdetroit.org/