U.S. Air Force CV-22 Osprey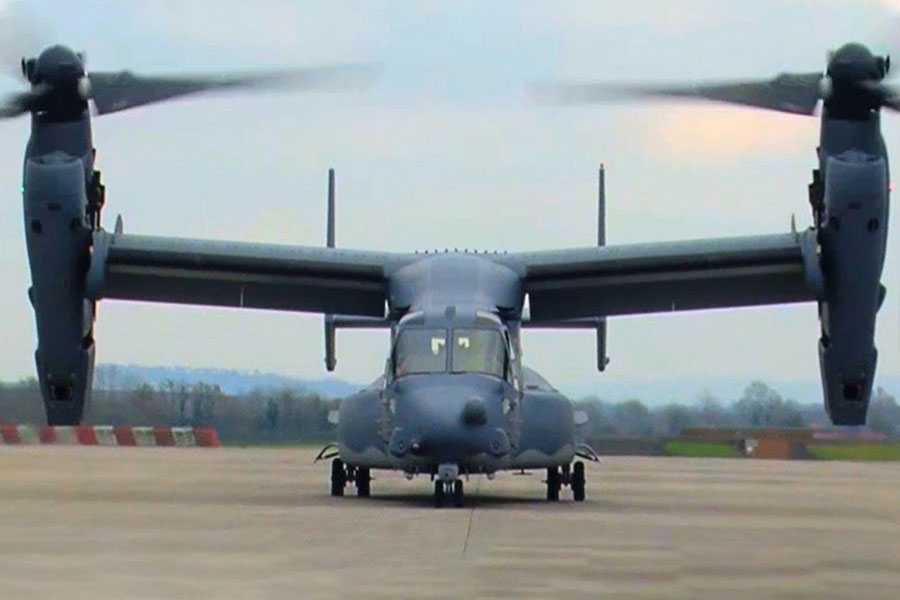 The CV-22 Osprey is a tiltrotor aircraft that combines the vertical takeoff, hover and vertical landing qualities of a helicopter with the long-range, fuel efficiency and speed characteristics of a turboprop aircraft. The mission of the CV-22 is to conduct long-range infiltration, exfiltration and resupply missions for special operations forces. This versatile, self-deployable aircraft offers increased speed and range over other rotary-wing aircraft, enabling Air Force Special Operations Command aircrews to execute long-range special operations missions. The CV-22 can perform missions that normally would require both fixed-wing and rotary-wing aircraft. The CV-22 is equipped with integrated threat countermeasures, terrain-following radar, forward-looking infrared sensor and other systems that allow it to operate in various austere conditions.
DID YOU KNOW?
The CV-22 is the Special Operation Forces variant of the U.S. Marine Corps MV-22 Osprey.
The CV-22 takes off vertically and, once airborne, the nacelles (engine and prop-rotor group) on each wing can rotate into a forward position.
From when Bell and Boeing first started development work in 1981, it would be 26 years until the Osprey actually entered service in 2007.
FAST FACTS:
Engine: Two Rolls-Royce Liberty AE1107C Engines
Thrust: more than 6,200 shaft horsepower per engine
Wingspan: 83 feet, 10 inches
Length: 57 feet, 4 inches
Height: 22 feet, 1 inch
Speed: 322 mph
Range: 500 nautical miles
Ceiling:  25,000 feet
Maximum Takeoff Weight: 60,500 pounds
Fuel Capacity: 13,850 pounds fuel
Armament: one .50-caliber machine gun on ramp
Crew: Pilot, Copilot, Two Flight Engineers
Unit Cost: $90 million (fiscal 98 constant dollars)
Inventory:  450
Website: https://www.af.mil/About-Us/Fact-Sheets/Display/Article/104531/cv-22-osprey/