Chance Vought F4U-5N Corsair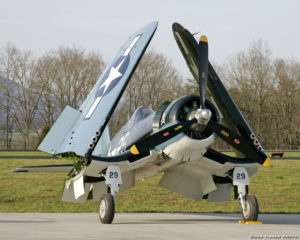 The Corsair played a major role as a U.S. WWII frontline combat aircraft. The F4U became well-known as the fighter of the famed Black Sheep squadron in the Pacific theatre. It's distinctive "gull wing" and huge propeller with a 2,100 horsepower Pratt-Whitney radial engine behind it makes the Corsair a favorite among aviators and air show fans. The Corsair will be flown by experienced warbird pilot, Dave Folk.
DID YOU KNOW?
The Corsair first entered service in 1942 and is known for its' gull wings which fold up!
The Corsair was the first U.S. fighter to exceed 400 mph in level flight!
The Corsair was known to the Japanese on the ground as "Whistling Death" because of the unique sound generated by the air flowing over the oil coolers in a dive.
The Corsair had many names from U.S. soldiers. It is popularly known as "The Sweetheart of the Marianas" and "The Sweetheart of Okinawa" for its roles in these campaigns. Among pilots, the Corsair was nicknamed "Ensign Eliminator" and "Bent-Wing Eliminator" because it required many more hours of flight training to master than other Navy carrier-based aircraft.
Fighters & Legends owns the Corsair coming to our show and it served with the Honduran Air Force. It saw combat in the ground-attack role in 1969 against El Salvador.
F4U Corsair FAST FACTS:
Engine: Pratt & Whitney R-2800-32W
Horsepower: 2,459
Wingspan: 41 feet
Length: 33 feet, 4 inches
Height: 14 feet, 9 inches
Max Speed: 470 mph
Fuel Capacity: 363 gallons
Gross Weight: 14,000 pounds