CareFlight Air and Mobile Services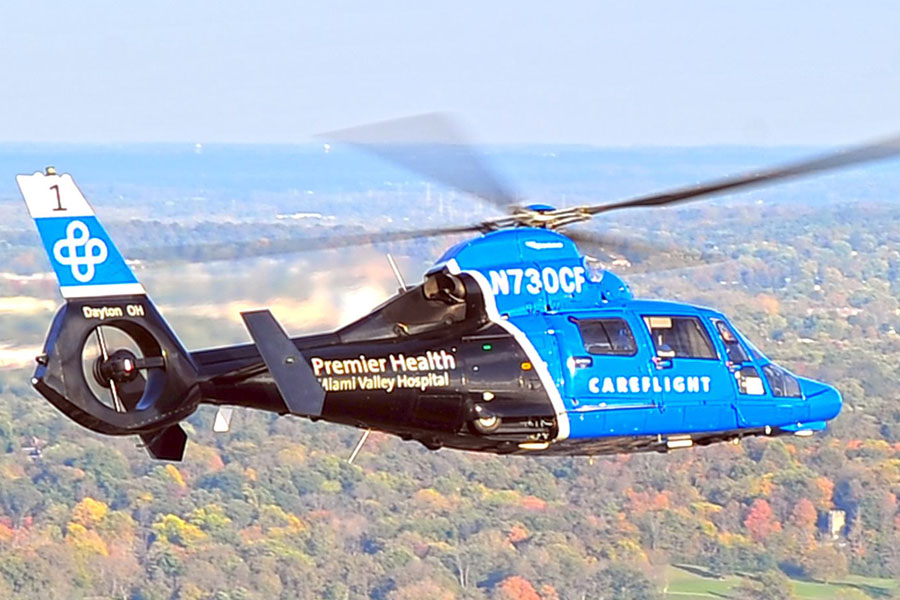 It's a sound that many in the community have heard and know well: two Turbomecca jet engines gliding through the air at speeds of 180 miles per hour, transporting patients who need critical care. For 38 years, CareFlight Air and Mobile Services, Premier Health's air-medical transport service and medical intensive care ground service, has saved thousands of lives in our region. 
In 1983, CareFlight completed its first patient transport from St. Mary's Ohio, and became the 65th air medical program in the country and the first in the region. At that time, CareFlight used a small single-engine aircraft with single-patient transport capability that traveled at speeds of 140 miles per hour.  
As technology and safety evolved, so did CareFlight. The program upgraded to Dauphin aircrafts in 1988, providing the region with the fastest twin jet engine helicopters. Today, four Dauphin helicopters and five Mobile Intensive Care Units make up the program. Team members include pilots, mechanics, medical teams, and dispatchers. 
A CareFlight helicopter is equipped just like an intensive care unit or hospital emergency department, bringing life-saving care to critically ill or injured patients. Medical care aboard CareFlight is provided by Premier Health's team of highly experienced flight nurses. All CareFlight activities are coordinated in CareFlight's Communication Center in the Premier Health Regional Referral Center.
Patients receive the highest level of care not only in the air with CareFlight but also upon arrival at Miami Valley Hospital, the region's most experienced Level I Trauma Center. Patients transported by CareFlight are met with a Level I trauma team any time of the day or night and taken directly from the helicopter to the operating room, saving precious minutes when life hangs in the balance.
Did you know:
CareFlight has transported more than 42,000 patients in 38 years of service to the community.  
CareFlight is the only air medical program in Dayton with the capability to transport two patients at a time. 

Unlike standard helicopters that have skids to land, CareFlight helicopters have landing gear that allows the aircraft to taxi like an airplane. 
Technological advances in the 365N3 Dauphin include:
180 mph maximum flight speed (approximately three miles per minute)

Four-axis autopilot capability providing a reliable, stable aircraft

9,480-pound maximum gross-weight capacity

10,000 ft. altitude capability 

Fully integrated digital cockpit

Airborne collision and avoidance system (ACAS)

Dual Garmin 430W GPS

Cockpit voice recorder

Helicopter terrain awareness warning system (HTAWS)

Night vision goggle compatible lighting

Weather radar

Crash resistant fuel tanks

Dual patient litters
CareFlight Air and Mobile Services is proud to be the official air transport service of the CenterPoint Energy Dayton Air Show!