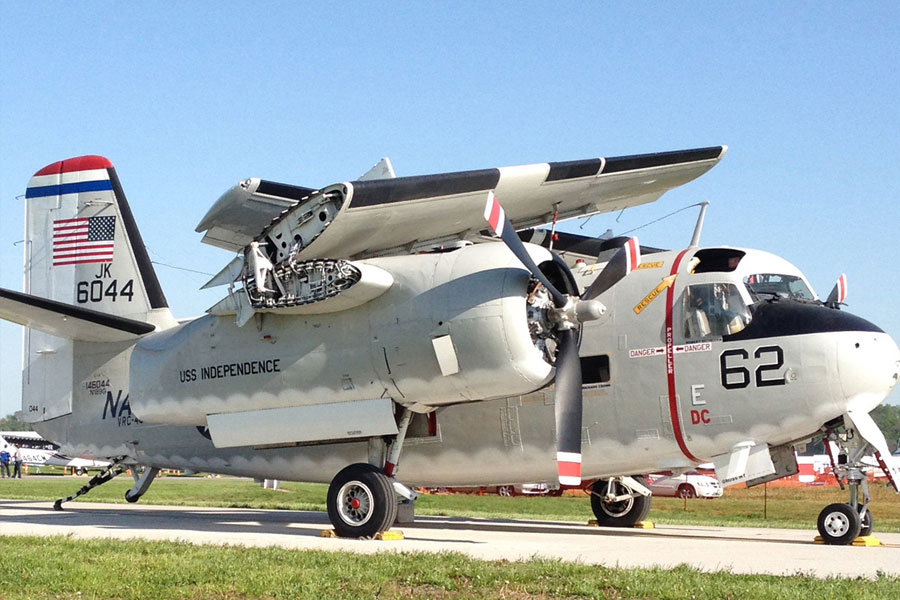 The auto-pilot equipped C-1A was considered an all-weather aircraft and was also used as both a multi-engine trainer and/or instrument trainer.  The Trader also performed carrier qualification flights for multi-engine pilots. The C-1A was given the Navy designation TF-1 Trader and made its first flight on 19 January 1955. A total of eighty-seven C-1A Traders were built by Grumman exclusively for the U.S. Navy. The C-1A was known as the "Mailman of the Fleet" and many Traders saw service during the Vietnam War flying mail, personnel and cargo on and off the carriers.  After serving for some thirty-five years, the last operational C-1A Trader was retired from service on 30 September, 1988.
DID YOU KNOW?
Four C-1A airframes were modified by Grumman to become EC-1A aircraft which functioned as an Electronics Counter Measures (ECM) aircraft to disrupt communications and confuse enemy ECM and Radar systems.
While in service, the C-1A accumulated 15,963 flying hours, 9,975 landings, 824 arrested landings, and 190 catapult shots.
The C-1A was designed in 1954 to replace the Navy's TBM-3R Avenger.
FAST FACTS:
Engine: Two Wright R-1820-82B Engines
Thrust: 1,525 shaft horsepower per engine
Wingspan: 69 feet, 8 inches
Length: 42 feet, 1 inch
Height: 16 feet, 3.5 inches
Speed: 300 knots
Range: 795 nautical miles
Ceiling:  15,800 feet
Maximum Takeoff Weight: 24,500 pounds
Fuel Capacity: 3,108 pounds fuel
Inventory:  87 until retirement in 1988