U.S. Air Force C-130J Hercules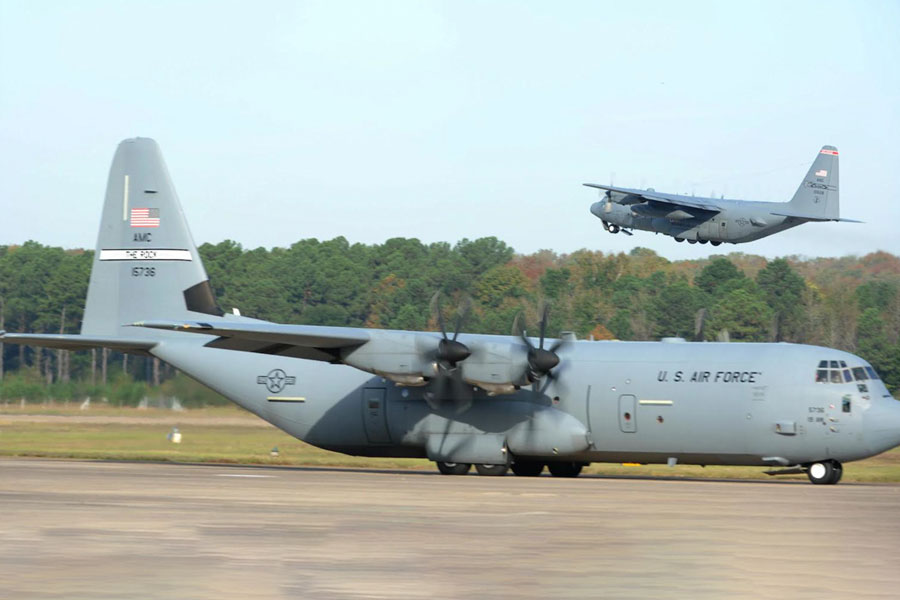 C-130 is the US Air Force's principal tactical cargo and personnel transport aircraft. The C-130J Hercules is the latest model, incorporating state-of-the-art technology, which reduces manpower requirements, lowers operating and support costs, and provides life-cycle cost savings over earlier C-130 models. Compared to older C-130s, the J model climbs faster and higher, flies farther at a higher cruise speed, and takes off and lands in a shorter distance.
DID YOU KNOW?
The C-130J entered active service with the USAF at Little Rock Air Force Base in April 2004 and was first deployed in December 2004.
The C-130J-30, a stretch version with a 15-foot fuselage extension, increases the capabilities even more.
The Air Force issued its original design specification in 1951, yet the remarkable C-130 remains in production.
FAST FACTS:
Engine: Four Rolls-Royce AE 2100D3 turboprops
Thrust: 8,600 pounds
Wingspan: 132 feet, 7 inches
Length: 97 feet, 9 inches
Height: 38 feet, 10 inches
Speed: Mach 0.59 (417 mph)
Range: 1,800 nautical miles
Ceiling:  28,000 feet
Maximum Takeoff Weight: 155,000 pounds
Fuel Capacity: 57,500 pounds fuel
Crew: Two Pilots, Loadmaster
Unit Cost: $75.5 million (FY 2017 Then dollars)
Inventory:  428
Website: https://www.af.mil/About-Us/Fact-Sheets/Display/Article/1555054/c-130-hercules/