B-25 Doolittle Raid Commemoration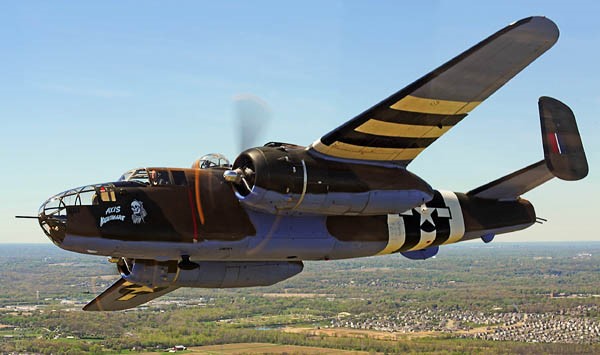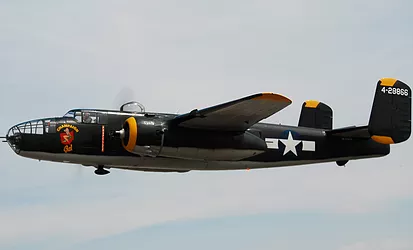 Two B-25's will commemorate the 75th anniversary of the famous Doolittle Tokyo Raid. On April 18th, 1942, 16 B-25's took off from the aircraft carriers Hornet and Enterprise to bomb targets in Japan. The top-secret mission was a huge morale boost for the U.S. and blow to the Japanese military just four months after the bombing of Pearl Harbor. Never before had medium range bombers been launched from an aircraft carrier. The risky mission involved 80 airmen that ditched their aircraft in China and Russia after the attack. The show commemoration will feature both a flight and ground display of the B-25's "Champaign Gal" and "Axis Nightmare" complete with pyrotechnics; a fitting tribute to the brave men that flew this historic mission.
DID YOU KNOW?
The B-25 Mitchell was the most numerous American medium bomber built. A total of 9,984 were built!
The B-25 used a technique called skip-bombing. Once dropped, a conventional bomb could skip across the water until it hit an enemy ship.
The B-25 was named in honor of General Billy Mitchell, a pioneer in U.S. military aviation. The B-25 is the only military aircraft named after an individual.
"Axis Nightmare" is based at the Tri-State Warbird Museum in Batavia, Ohio.
"Champaign Gal" is based at the Champaign Aviation Museum in Urbana, Ohio.
B-25 Mitchell FAST FACTS:
Manufacturer: North American Aviation
Engines: Two Wright R-2600 engines, 1,700 horsepower each
Length: 53 feet
Height: 15 feet, 9 inches
Wingspan: 67 feet, 6 inches
Maximum Speed: 275 miles per hour
Ceiling: 25,000 feet
Range: 1,350 statute miles
Maximum Takeoff Weight: 34,000 pounds
Crew: 5
Website: "Axis Nightmare"
Website: "Champaign Gal"