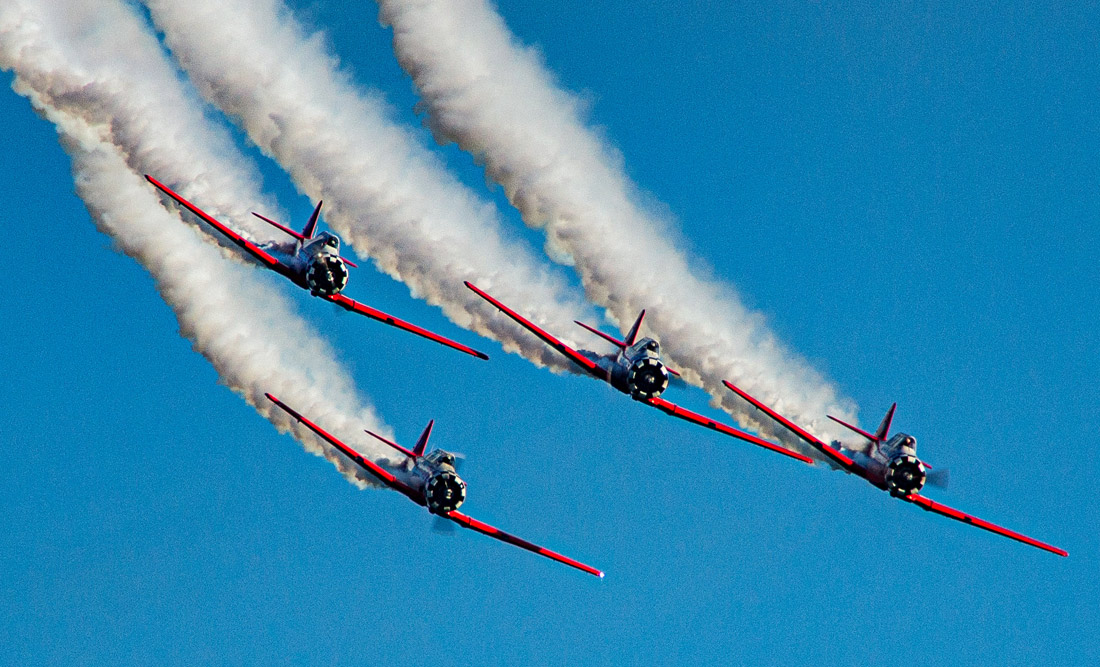 Rumbling over the skies of Dayton with their 600-horsepower, Pratt & Whitney radial engines, the North American Titan Aerobatic Team (formerly AeroShell Aerobatic Team) will combine nostalgia, romance and entertainment in their colorful, World War II-era warbirds. The Titan team, led by Mark Henley, flies four North American AT-6G Texans in precision aerobatic maneuvers, including the bomb burst, avalanche and breath-taking "Switch Blade".
DID YOU KNOW?
The team was founded by Alan Henley and Steve Gustafson in 1984!
Titan flew as a three-ship for 12 years before becoming a four-ship team!
The team has won multiple awards in the air show industry including the Bill Barber Award for Showmanship, Art Scholl Memorial Showmanship Award, and have been inducted into the ICAS Foundation Hall of Fame!
North American AT-6 "Texan" FAST FACTS:
Engine: Pratt & Whitney R-1340 AN-1
Wing Span: 42 ft.
Length: 29 ft. 6 in.
Maximum Take-Off Weight: 5,617 lbs.
Maximum Level Speed: 212 mph
Normal Range:  870 miles
Website: https://www.naat.net/index.html